PLEASE JOIN US AT THE SECOND ANNUAL SUPERWOMAN SUMMIT
The 2018 Superwoman Summit is a three day event held at the brand new Porter Hotel in downtown Portland, Oregon to support the professional development of strong, powerful women leaders. Join us for an incredible experience of inspiration, conversation, play and activation.
WHAT MAKES THIS CONFERENCE DIFFERENT?
The Superwoman Summit envisions a better world for everyone when more women are in power. Over 20 transformational speakers will take the stage to empower you with the knowledge, resources, community and inspiration you need to feel more empowered in your professional life. At the Superwoman Summit you'll be inspired to take your professional life and creative endeavors to the next level.
WE ARE PROUD TO PRESENT
The Superwoman Summit is proud to present influential leaders, change agents, authors, coaches and thought leaders driving the conversation in this area of women's leadership.
There will be main stage talks combined with breakout sessions and three intensive workshops. There is a cocktail reception on Friday and Saturday night at the hotel following the final keynote talk.
We will also facilitate fun conversations on emotional intelligence, mindfulness, creativity and tactics that drive positive change for the future of women leaders and their organizations.
Check out superwomansummmit.com for more details.
YOU ARE THE SOLUTION
Not only have we invited some of the most formative thought leaders on the subject of women's empowerment, leadership and professional development, but we've also invited our male colleagues who embody the values we stand for. We believe everyone needs to get involved in order to create solutions to the following problems:
Equal pay for women and men
Equal opportunity for promotion, responsibility, creativity and leadership for both women and men
Equal contribution from women and men in the boardroom, on teams and at meetings
Equal voice for projects, solutions and ideas
A supportive, collaborative and innovative work culture for all
THIS YEAR'S SUMMIT WILL OFFER THREE TRACKS FOR YOU TO CHOOSE FROM
Track 1: GET EMPOWERED
This track is dedicated to empowering you with the knowledge, resources and connections you need to feel more empowered at work, in business and as a leader in your industry. From overcoming fear to building your confidence, this track is for every woman looking to up-level her work and go to the next level.
Track 2: LEAD OTHERS
This track is dedicated to helping you become a better leader and up-level your leadership skills. Leading others is a skill that can be learned and this track is for women who are in leadership positions or aspire to become great leaders at work and in business.
Track 3: MAKE A DIFFERENCE
This track is dedicated to helping you grow an idea and make a difference in the world This could be as an entrepreneur, activist, community organizer or politician. Public speaking, strategic planning and helping make the world a better place are just some of the topics we'll cover in this exciting track.
To find out more about the schedule visit superwomansummit.com.
FAQs
Who can attend?
The Superwoman Summit is an inclusive experience for ALL individuals. Men and LGBTQ are encouraged to attend.
Are there ID or minimum age requirements to enter the event?
You must be at least 18 to attend.
How can I contact the organizer with any questions?
contact jessica@superwomanproject with any questions.
What's the refund policy?
Groups, single day passes and student rate tickets are non-refundable. You can transfer your ticket to another name until one month prior to the event by contacting jessica@superwomanproject.com. Transfers will not be permitted after September 22, 2018 at midnight.
Individual tickets (only) are refundable until August 1, 2018.
How should I dress?
Please dress comfortably and come in whatever you feel best in.
Yoga will be offered in the mornings on Saturday and Sunday prior to the morning keynotes so if you plan to go to yoga, please dress appropriately. Mats will be provided.
2018 Pricing Matrix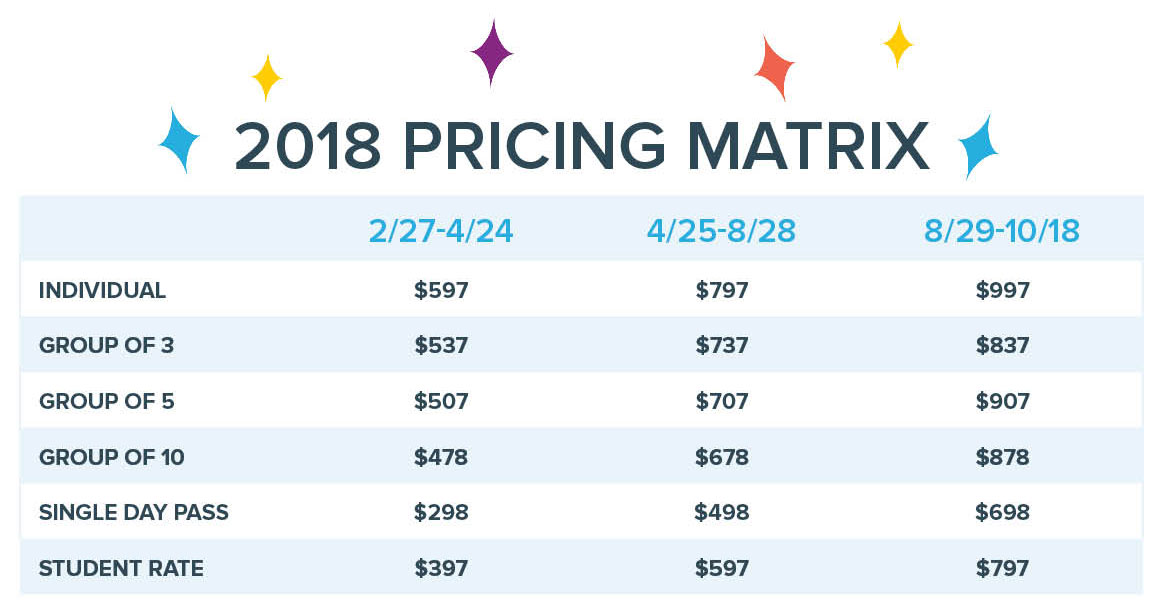 Are there scholarships available?
This year we are offering three scholarship tickets to the event. We will accept applications until June 1, 2018. Scholarship tickets are just $150 and give you full access to the weekend's events. Please email jessica@superwomanproject.com and explain why you would like to be considered for a scholarship to attend this year's Superwoman Summit.
Where do I stay?
Please contact The Porter Portland, Curio Collection by Hilton
1355 SW 2nd Ave., Portland, Oregon, 97201, USATEL: +1-503-306-4800
REGISTER USING CORPORATE ACCOUNT 2630732 TO GET A 15% DISCOUNT ON RATES